so myself and a top secret operative found the location of the Playboy Mansion : 10236 Charing Cross Rd, Westwood, CA 90024. Below is a picture of it from Google Earth. It's in Google Maps too, but Google Earth gets much better resolution. The circled area is the grotto.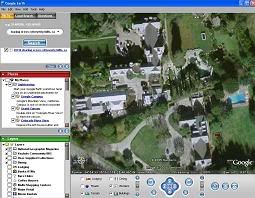 Click it for a bigger version.
Pretty cool. I guess some man made structures aren't visible from space. Silicone ones, I mean.
And here are the
Google Earth
and
Google Maps
sites for those curious.